Sound Level Meters Configurable for All Applications
The Nova sound level meters combine advanced technology and noise measurement methods with ease of use and durability.
The Nova range of sound level meters can output the following values:
Frequency Weightings: A, C and Z
Time Weightings: F, S and I
Percentile sound levels: Ln (1% to 99%, 7 Preset Values, 7 User Definable)
The Nova range is available in 6 different models, ranging from the basic configurations (Models 41 and 42), to intermediate (Models 43 and 44) and up to the most advanced/fully featured meters the Nova range has to offer (Models 45 and 46).
AnalyzerPlus
All Nova sound level meters come with the AnalyzerPlus sound analysis and datalogging software. AnalyzerPlus allows users to view data recorded by Nova sound level meters as well as change settings and configurations for the Nova meter in use.
Additionally, the AnalyzerPlus software package allows users to generate reports and export data to a range of formats for post processing and analysis.
Items Included with Purchase
1x Nova Sound Level Meter
1x AnalyzerPlus Software CD
1x Microphone Windshield
1x Mini-USB Cable
6x Alkaline AA cell Batteries
---
Optional Software/Functions
The Nova range of sound level meters is configurable with any of the available software options in addition to the standard features provided with each model.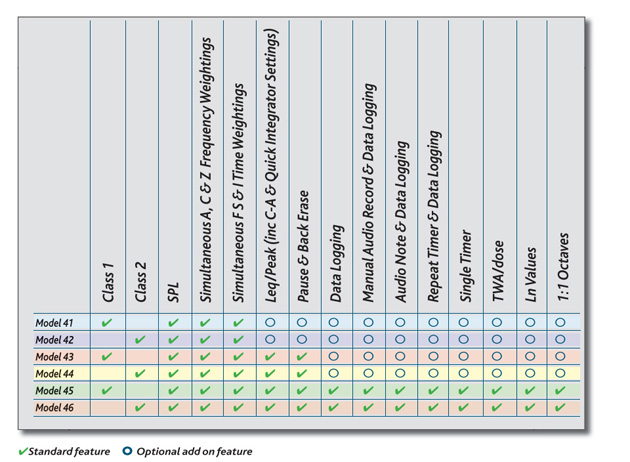 ---
Applicable Standards
IEC 61672-1:2002 (Class 1 and 2 Respectively)
IEC 60651:2001 (Type 1 and 2 Respectively)
IEC 60804:2001
IEC 61252:1993 (Personal Sound Exposure Meters)
ANSI S1.4 -1983 (R2006)
ANSI S1.43 - 1997 (R2007)
ANSI S1.25:1991
IEC 61260 (1:1 Octave Band Filter)